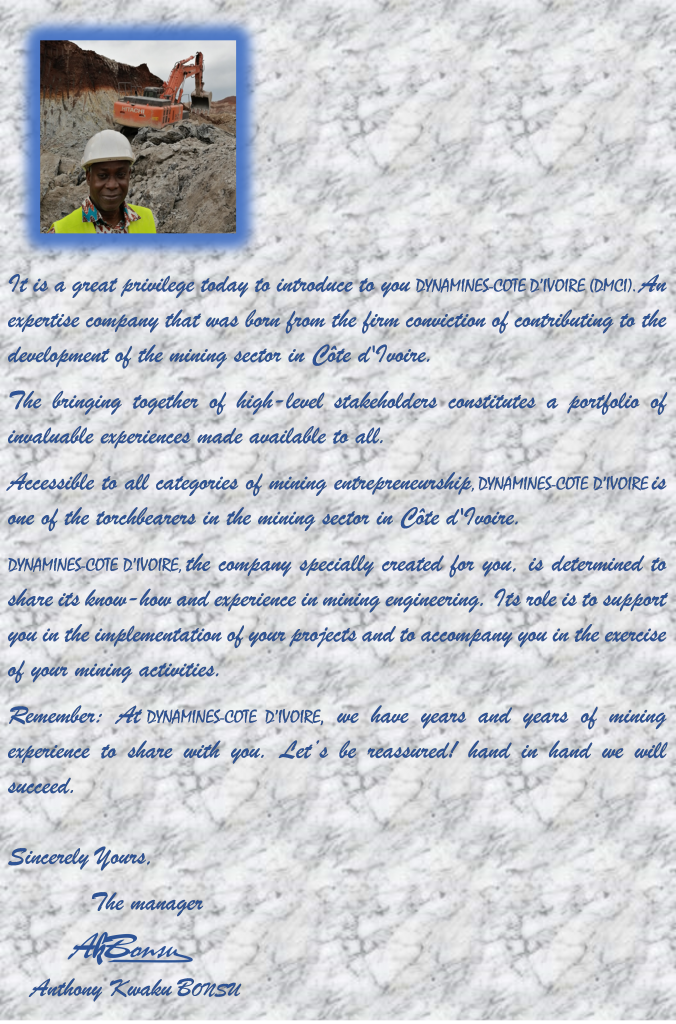 [boldgrid_component type="wp_calendar"]

is a new expertise structure that offers professional assistance to mining companies. Thanks to several stakeholders of all stripes and experienced in the mining field, the firm is developing its expertise in the service delivery market based on the dynamic evolution of the mining sector.
Our mission
Our positioning as a multi-specialist company and the convergence of our business experts in geology, mining engineering, mineral processing and environmental management ensure that our clients have a good exchange for better results. Our mission is to effectively cover the entire range of development of a project, whether in the artisanal, semi-industrial or industrial mining field.
Our fields of application (among others):
– Editing and monitoring of permit application files
– Geological works
– Project evaluation
– Selection of equipment and production material
– Design and assembly of mineral processing units
– Mining and metallurgical audits
– Environmental studies
Our engagement:
Creativity and innovation resulting from exchanges, sharing of experiences are our let-motive for successful dynamic, efficient and productive assistance.Listening is essential.
With a vision promoting a balance between enthusiasm and economic reason,we are committed to providing you with quality service in order to maximize your profits.
Our principles:
Excellence and equity are always the borrowings of